Welcome to Fiddler's Dream Coffeehouse!
Supporting Acoustic Music Since 1987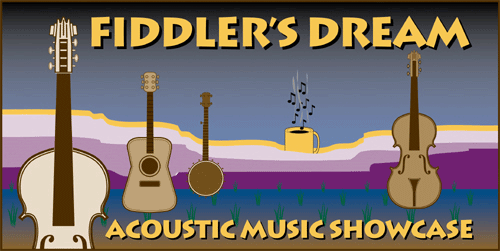 Fiddler's Dream will be closed until further notice to help limit the spread of COVID-19. We will regularly assess the situation based on CDC and AZ state executive orders (here) for social and recreational gatherings during the COVID-19 pandemic. The health and well-being of our performers, guests and volunteers is and always will be our highest priority. We will keep you updated on when we will be resuming events. Check out our STAY AT HOME Virtual Online Open Stage on our events page here. We will also be live streaming Open Stage on Facebook (Fiddler's Dream Facebook page) if you'd like to join in as part of the audience! Meanwhile, stay safe and be well. Surround yourself with music, please look out for one another, and we look forward to seeing you back at Fiddler's Dream very soon.
Check Out Our Upcoming Performance Schedule. Click here.
Help keep the dream alive while Fiddler's Dream is closed due to the COVID-19 pandemic by making a donation via PayPal:
Dream Big Benefit CD
The Dream Big CDs have arrived! All net proceeds to benefit Fiddler's Dream!!! A minimum $10 is requested, and if you'd like to purchase one but aren't within driving distance for one of our pickup events at Fidds (check our Fidd's Facebook page), let us know via FB message or text message to 602-997-9795 and we can figure out mailing details.

Fiddler's Dream Coffeehouse is located at 1702 East Glendale, in North Phoenix, AZ, 85020, just 1 block North of Glendale Avenue on the east side of 17th Street. We are on the grounds of the Phoenix Friends Meeting (Quakers). If you need a map, click here.
We're open from 7:15 pm until 10:30 pm Friday and Saturday nights (Performances start at 8:00 pm), and from 6:00 pm to 9:30 pm on Thursday nights (music starts at 6:30 pm) for our Open Stage Night, so stop and visit. Special events on different days or times will be posted on our performance schedule!

We offer a smoke-free, alcohol-free, COMPLETELY ACOUSTIC musical environment in a small venue listening room environment, showcasing local and internationally touring musicians, completely unplugged.

Fiddler's Dream is all-volunteer and acoustic since 1987! - and we plan to keep getting better and better. As an all-volunteer organization, we are always looking for nice folks to staff the kitchen, emcee, and lots of other fun stuff. Let us know if you'd like to be involved!
To signup to our E-Notices email list, Click here.
For information on each weekend's events, check our performance schedule (Click here), our Facebook events page (Click here) or call (602) 997-9795 for general information.
Fiddler's Dream is COMPLETELY ACOUSTIC, which means we have no sound system, no microphones, and no amplifiers - and none are allowed per our incorporating charter. If you are interested in performing at Fiddler's Dream, and can do a completely acoustic set, e-mail our bookings mailbox (below), send us a Facebook message or give us a call. As a nonprofit and all-volunteer organization, we share a percentage of the door, 100% of your tips, 100% of your product sales, and our audience LISTENS and appreciates. We always appreciate your tipping the venue. It's great... We present artists from Arizona as well as nationally touring acts.
Check our performance schedule to see when we're having Festivals or Special Concerts to hear more of your favorite performers.
Fiddlers Dream Coffeehouse and Goodshop.com are teaming up for a worthy cause.
Visit our Facebook fan page!
Fiddler's Dream Coffeehouse


Promote Your Page Too


Want more information? Drop us E-Mail at any one of the mailboxes listed below ! !

Fiddler's Dream Logo, Copyright Fiddler's Dream 1997