Welcome to Fiddler's Dream Coffeehouse !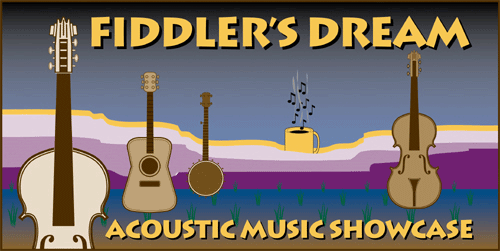 31 Years of Music and Still Counting!
Check out our upcoming schedule. Click here.

Fiddler's Dream Coffeehouse is located at 1702 East Glendale, in North Phoenix, just 1 block North of Glendale Avenue on the east side of 17th Street. We are on the grounds of the Phoenix Friends Meeting, on the Southeast corner of 17th Street and Cactus Wren. If you need a map, click here.
We're open from 7:15 pm until 11:00 pm Friday and Saturday nights (Performances start at 8:00 pm) and on Thursday 6:30 pm to 10:00 pm (music starts at 7:00 pm) we're open for our Open Stage Night, so stop and visit. We also have some special events-check our calendar! In January 2018 we celebrated our 31st Anniversary - and we plan to keep getting better and better. As an all-volunteer organization, we are always looking for nice folks to staff the kitchen, emcee, and lots of other fun stuff. Let us know if you'd like to be involved!
We offer a smoke-free, alcohol-free, COMPLETELY ACOUSTIC musical environment in a small venue. It's a lot of fun, and we hold an open-stage at the end of most Friday and Saturday shows ... 10 minutes or three songs.
For information on each weekend's events, call (602) 997-9795. Fiddler's Dream is COMPLETELY ACOUSTIC, which means we have no sound system, no microphones, and no amplifiers - and none are allowed per our incorporating charter. If you are interested in performing at Fiddler's Dream, and can do a completely acoustic set, e-mail or give us a call.
As a nonprofit and all-volunteer organization, we offer a small stipend to our performers, and our audience LISTENS and appreciates. It's great... We present artists from Arizona as well as nationally touring acts. Check to see when we're having Festivals or Special Concerts to hear more of your favorite performers.
Fiddlers Dream Coffeehouse and Goodshop.com are teaming up for a worthy cause.
Visit our facebook fan page!
Fiddler's Dream Coffeehouse


Promote Your Page Too
Subscribe to the Fiddler's Dream Weekly E-Notices. Click Here


Want more information? Drop us E-Mail at any one of the mailboxes listed below ! !

Fiddler's Dream Logo, Copyright Fiddler's Dream 1997
Last updated August 9, 2010 - Nia Maxwell